More Details
Reviews
Other People Also Purchased
Shipping Details
Returns Policy
NATURES KISS ARNICA CREAM 90GM More Details
Natures Kiss Arnica Cream
Natures Kiss Arnica Cream is a super soothing cream that works effectively for bruises, bumps, aches and pains. It is safe for children, adults and pregnant women.
What are its ingredients?
Natures Kiss Arnica Cream contains 15 percent Arnica oil, canola oil, calendula oil, water, olive oil, cetearyl alcohol, glycerin, glyceryl stearate and PEG-100 stearate, beeswax, tocopheryl acetate, sorbic acid, caprylyl glycol, phenoxyethanol, potassium sorbate, fragrance.
How is it used?
Natures Kiss Arnica Cream should be applied 3 times a day to the affected area. Do not apply to broken skin.
Add to cart.
Free Shipping on orders over $100.00 Ex GST and Under 2.5Kg total. (Courier in NZ, Air-Mail elsewhere)
NATURES KISS ARNICA CREAM 90GM Reviews
Shipping Details for NATURES KISS ARNICA CREAM 90GM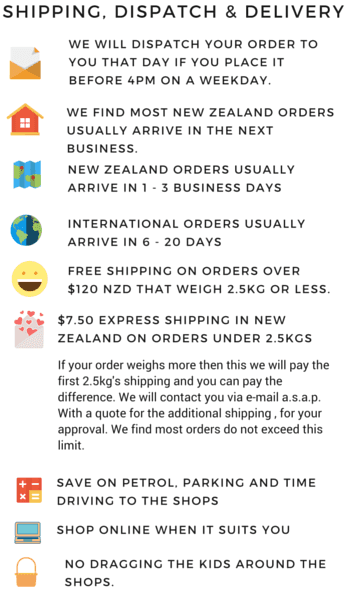 Returns Policy for NATURES KISS ARNICA CREAM 90GM
NATURES KISS ARNICA CREAM 90GM Other People Also Purchased
Here what our customers are saying about us:

I shop quite a bit online, and have never had my purchases arrive so fast before. Thrilled, thanks! Margaret, Papamoa, NZ (20/03/2014)

"Kia Orana Team! I am REALLY impressed with your very quick turn around. Thank you so much for sending my item to me, all the way in Rarotonga, well packaged and sent extremely quickly. I'm so happy I have found an efficient company I can rely on :)

Meitaki maata

Tash" Natasha, Rarotonga, Cook Islands (23/3/2014)

"I have found dealing with this pharmacy on line to be a great easy way of getting required items. The fast service is brilliant and the products have always been up to excellent standard. I will definitely use the online pharmacy again." Denise Duncan - Te Kauwhata (9/3/2014)

Great, item received quickly, safely packaged and as described. The prices were very competitive, you will get a good deal on everyday items and hard to find necessities.

Krishna, Hamilton, NZ (29/10/13)

Wonderful service and quick. Only one problem and it was taken care of immediately. Best customer service in the world! Betty, Memphis, TN USA (26/03/2014)
Any information presented on this site is of a general nature. It is not intended to be a substitute for professional health care specific to your circumstances. Use as directed. If symptoms persist contact your health care professional.