Baby & Toddler
More Details
Reviews
Other People Also Purchased
Shipping Details
Returns Policy
WOODWARDS GRIPEWATER 150ml More Details
Woodwards Gripe Water 150ml
Get dual action relief by giving your babies Woodwards Gripe Water. It is specially formulated to help provide rapid relief of wind and gripe on infants.
What are the benefits and features of Woodwards Gripe Water?
It helps provide rapid relief for wind and gripe.
It contains no alcohol or sugar.
It has been a trusted brand since 1851.
It contains dill oil that helps to warm and relax the tummy by breaking down the trapped air bubbles.
It also contains sodium hydrogen carbonate that aids in neutralizing the acid inside the baby's tummy.
It aids in allowing the release of wind through a resounding burp.
Wind pain is a common occurrence among babies that is mainly caused by too much air being trapped inside the babies tummy, mostly through feeding. Mothers tend to worry about wind pain, however it may be reassuring to know that it is not dangerous or harmful to the baby, although it may be incredibly uncomfortable.
Gripe on the other hand, happens when there is too many muscle contractions causing spasm and excess acid. Gripe occurs when air bubbles are formed inside the babies tummy. When it is trapped inside the baby's stomach, it will send signals to the brains that the stomach is full of food. This will trigger the production of acids that are needed to break down food particles. Since there is no actual food particles to be broken down, these acids cause irritation that will lead to the stomach muscles not being able to relax. This is what causes cramps and spasms.
By giving your babies Woodwards Gripe Water, it will help them to get rapid relief from both wind and gripe.
What are the active ingredients?
Each 5ml spoonful contains: Terpeneless Dill Seed Oil 2.3mg/5ml, Sodium Hydrogen Carbonate 52.5mg/5ml
Also contains: E215, E217, E219
What is the recommended dosage?
HOW TO USE WOODWARD'S GRIPE WATER.
Check that the cap-ring seal is not broken before first use. Shake the bottle well.
Dosage:
Babies up to 1 month old: Not to be used.
1-6 months old : One 5ml spoonful.
6-12 months old: Two 5ml spoonfuls.
Are there any warnings and precautions?
The doses may be given during or after each feed, up to 6 times in 24 hours.
If symptoms persist, medical advice should be sought.
Do not use this product where impaired kidney function or hypersensitivity to the preservatives E215, E217 and E219 exists.
KEEP OUT OF THE REACH OF CHILDREN.
Discard the contents of this bottle 14 days after opening.
Do not store above 25 degree C.
Save on petrol - buy Woodwards Gripe Water 150ml online at a great price and have it shipped to your door fast!



Free Shipping on orders over $100.00 Ex GST and Under 2.5Kg total. (Courier in NZ, Air-Mail elsewhere)
WOODWARDS GRIPEWATER 150ml Reviews
Shipping Details for WOODWARDS GRIPEWATER 150ml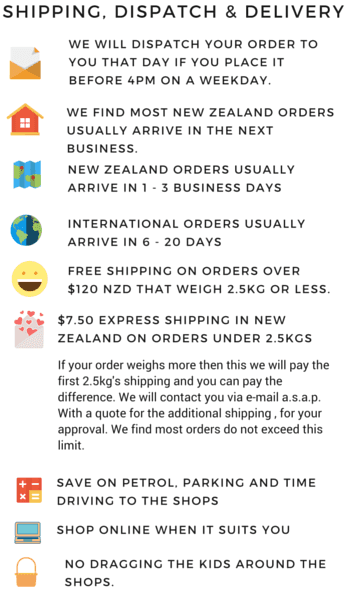 Returns Policy for WOODWARDS GRIPEWATER 150ml
WOODWARDS GRIPEWATER 150ml Other People Also Purchased

ANTHISAN CREAM 25G
Be the first one to write a review
Anthisan helps to minimise the irritating and itching of stings, bites and rashes which cause irritation. This irritation could be caused by Insects, Plants, Ants, Bees, Wasps, Mosquitoes, Sand flies, Sea lice Vines and Nettles.
SKU 212245
Price $14.94
LANSINOH NIPPLE CARE 10gm
Be the first one to write a review
Lansinoh has been developed to help new mothers combat dryness and cracking associated with breastfeeding. Natural as breastfeeding is, some women experience difficulties during the first few weeks. The most frequent discomfort is sore nipples, which often leads to premature weaning.
SKU 2362198
Price $13.63
Here what our customers are saying about us:

I shop quite a bit online, and have never had my purchases arrive so fast before. Thrilled, thanks! Margaret, Papamoa, NZ (20/03/2014)

"Kia Orana Team! I am REALLY impressed with your very quick turn around. Thank you so much for sending my item to me, all the way in Rarotonga, well packaged and sent extremely quickly. I'm so happy I have found an efficient company I can rely on :)

Meitaki maata

Tash" Natasha, Rarotonga, Cook Islands (23/3/2014)

"I have found dealing with this pharmacy on line to be a great easy way of getting required items. The fast service is brilliant and the products have always been up to excellent standard. I will definitely use the online pharmacy again." Denise Duncan - Te Kauwhata (9/3/2014)

Great, item received quickly, safely packaged and as described. The prices were very competitive, you will get a good deal on everyday items and hard to find necessities.

Krishna, Hamilton, NZ (29/10/13)

Wonderful service and quick. Only one problem and it was taken care of immediately. Best customer service in the world! Betty, Memphis, TN USA (26/03/2014)
Any information presented on this site is of a general nature. It is not intended to be a substitute for professional health care specific to your circumstances. Use as directed. If symptoms persist contact your health care professional.