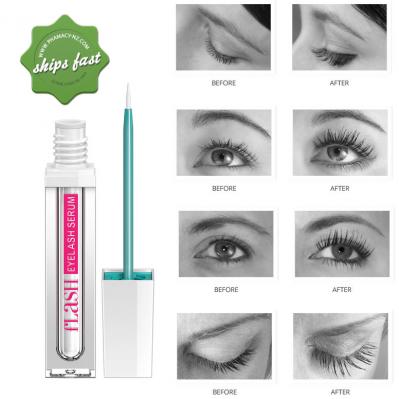 You may have heard of eyelash growth serum, the latest craze in the beauty department. And you are wondering, which one is the best eyelash growth serum and where to find it. Well, if you are like me and you're not very fond of shopping in stores but prefer to let your fingers do the walking, I would definitely recommend doing a search. There are some great blog reviews with before and after pictures out there. That way you can find the best eyelash growth serum in NZ. The good news is, you don't have to go any further, as we have done some research for you.
Where can I find eyelash growth serum in NZ?
If you're looking for the best eyelash growth serum in NZ then our pick is Flash Eyelash Serum which you can buy in our online store. Below we are going to show you why. This is one of our best selling products, and the good thing is you can reduce the amount of serum you use once your lashes reach the desired length and thickness, to maintain them.
The next question you will probably want to answer is how effective is this eyelash growth serum?
The best way to figure this out is by trying it out yourself. But you will probably ask why should I spend my money if I am not sure that it will work. It can be a chicken and an egg situation here. So again, the next best place to find out if it will really work is by checking the internet for reviews. You are in luck because I found these wonderful reviews from various beauty bloggers.
3 Top New Zealand Beauty Bloggers Review Flash Eyelash Serum
What is Flash Eyelash Growth Serum? It is a serum you apply to the base of your lashes in the morning. It helps enhance the length and curl of your lashes. You apply it daily like a liquid eyeliner. It's unique formula conditions and strengthens the eyelashes follicles. It also works to enhance thinning and patchy brows.
Check out the "The Beauty Foodie" and read Loux's review about flash lash.
I'll cut straight to the chase – I've been using Flash Eyelash Serum for five weeks and I'm freaking IN LOVE. My eyelashes are lush, long and spidery, to the point where my husband jokingly suggested I give them a trim. I'm absolutely stoked and I'm high-fiving myself for saving some serious coin in the eyelash serum department.
2. Watch this review from YouTuber River on her YouTube channel "River of Beauty " as she talked about her own experience about Flash Eyelash Serum.
Video Credit (Beauty of River YouTube Channel)
"I have very short, pale lashes. They're blond and very short. They do have a bit of a curl to them but they're too short that if I am not wearing makeup, kind of looks like I don't even have lashes…"

"Around 5-6 weeks mark, that's when I really able to notice that my natural lashes are actually longer with no mascara…but I definitely feel more comfortable without wearing false eyelashes…"
3. Read on "NZGIRL's " review by Belinda Nash — Head Writer
PS: I checked out the ingredients on my other empty lash serum bottles (yes, I'm the geeky girl who kept the bottles so I could compare ingredients each time I bought a new serum) and there is NO DIFFERENCE between fLASH and other brands and we all know how expensive those other big brand names are. So there ya have it – get wink-worthy lashes for a fraction of the price.
How does it work?
I noticed that when I applied an eyelash growth serum, it helped fortify and condition my eyelash follicles. This then resulted to naturally long and beautiful lashes. I didn't have to resort to using mascara that gives the illusion of long, thick lashes. I also did have to get an eyelash extension from the salon. Effectively, it saves a lot of money and regular trips to the salon.
Shop This Story:
So, if you are the type who obsesses over your eyelashes or you simply want to grow them, go ahead and shop our online store for eyelash growth serum in NZ. You can also find other products to compliment this product.
Over to you... Please leave your comment
comments