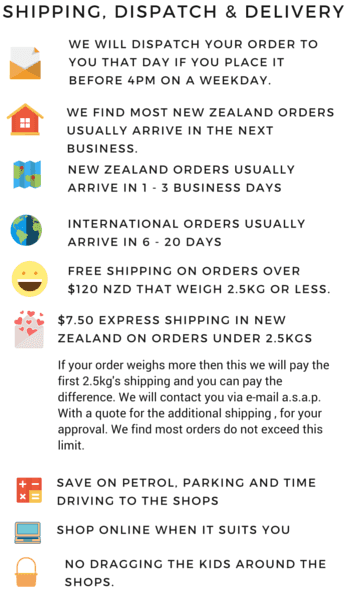 No more paying for petrol, car parks and taking 20 minutes to pop down to the local shops... Now you can save time and money by shopping online!
Here is a video from our web geek lucy with everything you need to know about shipping.
SHIPPING FAQ
Q. How can I get Free Shipping?
A. Place an order of $120 or more in value (excluding GST). Free shipping only applies to orders under 2.5kg. If your order weighs more then this - we will pay the first 2.5kg shipping and you can pay the difference.
Q. How much does shipping and freight cost?
We offer flat rate shipping on all regular sized orders under 2.5kgs*:
New Zealand $7.50 by courier*
Australia by Air Freight $17.99*
Q. What if my order weighs more then 2.5kgs?
A. If your order weighs more then this we will pay the first 2.5kg shipping and you can pay the difference. We will contact you via e-mail a.s.a.p. With a quote for the additional shipping , for your approval. We will not charge you for your order until you have confirmed shipping costs so there is no refund to arrange should you cancel your order. We find most orders do not exceed this limit. We find most orders are under 2.5 kgs unless they involved heavy liquids or cans
Q. What is GST? (Goods and Services Tax)
GST is added to the price of taxable goods and services at a rate of 15%. All website Prices are inclusive of GST.
Q. How do I Know My Credit Card Details Are Safe?
We understand your concerns of buying online and value your custom. That is why we forward you to a secure credit card facility on your registration to purchase. And promise we will never share your personal information. Learn more about the security measures we take to keep your information safe.
Q. I Do Not Have A Credit Card? Can I Still Shop With You?
Yes - give us a call on 0800 000 980 and speak to us about payment details.
DISPATCH
Q. When will you dispatch my order?
Where possible we try to dispatch orders the same day they arrive. During the week we process your orders as they come into our retail store.Your goods will usually be dispatched the same day if you place your order before 2pm on a week day. We will send you an email (or text if you prefer) to let you know when your order has been dispatched so you can keep an eye out in the mail. We never charge your credit card until we are sure we have the stock to fill your order, so there is no messy refund process. We only charge you when the goods are on their way.
Q. Where are the orders dispatched from?
Orders are dispatched from Oamaru Pharmacy Ltd. 171 Thames St, Oamaru, New Zealand and the courier stops by daily during the week at 4pm to pick up the orders.
Q. What happens if you are out of stock?
All of our products are dispatched within 1-2 business days. Should a product be out of stock, we'll notify you of the delay immediately. If the product is not able to be supplied a refund will be given fro that product and the rest of your order will be shipped. You will receive an email regarding this if it was to happen.
SHIPPING LOCATIONS
Q. What countries do you ship to?
A. We ship orders to New Zealand, Australia.
Q. What products will you not ship overseas?
A. Because we sell health products there are a few items that can not be shipped internationally. We have tried to include this in the product description to help make shopping easier.
DELIVERY TIMES
Q. How long will my order take to arrive?
A. Orders usually ship to the following countries in the following amounts of time:
New Zealand in 1-3 Business Days
Australia 6-16 Business Days
Delivery to your work or home address
Sometimes couriers service business areas several times a day, so getting your package delivered to work may mean faster delivery times. With the added benefit of more people being there to accept your order if you are not there. All items are packaged in a courier bag or box so no one at work needs to know what you have purchased.
Courier Calling Cards
The Courier will not leave your package unless specifically instructed to. If this is something you require please add this to the customer comment section of the shopping cart.
Other Questions:

Q. How can I talk to a Pharmacist?
Talk to one of our friendly staff today using the free phone number below:

To Speak To A Pharmacist Ring 0800 000 980 Contact Us
Q. Who do I talk to about orders and shipping?
For Shop Help or To Order Ring 0800 000 980 or Call 006434348741 If you are overseas and ask for one of our friendly customer service staff (Here is our Contact Us page)
So what are you waiting for?
Enjoy the Free Parking at Pharmacy-NZ.com You can come online, find the items you need and have it discreetly posted to your home or workplace. No wasting your precious free time running across town, finding a park, and tracking down the items you need (We have been told by some customers our shipping costs are cheaper then parking in their city.)
Do you have questions about shipping or returns?
If you find your order has not arrived please get in touch with our customer service team:
Calling 0800 000 980 If your are based in New Zealand
Calling 006434348741 If you are overseas.
Or emailing orderspharmacynz@gmail.com