Benzac AC Gel 2.5 % 50g (Benzoyl Peroxide 2.5 %)
Get rid of mild acne fast by using Benzac AC 2.5% gel is great for treating acne prone skin it kills acne forming bacteria and unplugs clogged pores in the skin and has specially beads which absorb oils and release glycerin to moisturise dry, irritated skin.
Benefits:
Low stregnth Recommended by dermatologists for mild acne
It contains benzoyl peroxide, which is responsible for killing the bacteria that causes the pimples and unclog pores to prevent blackheads and whiteheads.
Quick and effective antibacterial action
Cheaper and stronger than the infomercial options containing the same main ingredient
Remove excess oil and hydrate your skin.
Same Active ingredient as proactive
2.5% Benzyl Peroxide for Moderate (It also comes in 5% for moderate and 10% for Severe ance)
It contains benzoyl peroxide that helps unblock pores and kill acne bacteria within 48 hours.
Features:
Removing excess oil and hydrating the skin.
AC are the initials for Acrylates Copolymer beads which act to absorb oils and release glycerin to moisturise dry, irritated skin.
Contains ingredients that absorb excess oils and releases Glycerol which reduces the risk of irritation.
Contains benzyl Peroxide which kills acne forming bacteria and unplugs clogged pores in the skin
Comes in 3 strengths to choose from depending on the severity of your condition
How does it work?:
The tiny highly porous beads Acrylates Copolymers can absorb up to four times their own weight in fluid. These beads soak up certain liquids quickly and easily, but are selective about what they can absorb. These rapidly absorb oils, but does not absorb water, as water has a very high surface tension. When Acrylates Copolymer/glycerin complex is applied to the face, the beads come in contact with lipids, such as sebum that has high affinity for them. Sebum, being oil in nature can be easily attracted to the beads. This forces the glycerin out of the beads and onto the skin surface. The AC beads then absorb the sebum. Glycerin, on the other hand lubricates the skin, making it smooth and soft. Learn more on the Brand Website
Ingredients (Each gram contains):
Active: benzoyl peroxide 25 mg/g.
Inactive: docusate sodium, disodium edetate, poloxamer 182, carbomer 940, propylene glycol, acrylates copolymer, glycerin (glycerin), silicon dioxide, sodium hydroxide, and purified water.
Instructions:
Step 1 - Wash your hands and the affected area with a mild skin cleanser. Rinse with water and pat skin dry.
Step 2 - Apply a thin film of Benzac AC Gel to the affected areas once daily. Leave it on the skin for 2 hours. Then wash it off with water. Pat skin dry.
Step 3 - Apply a light moisturiser which won't clog pores. After three days, if no discomfort is felt, apply Benzac AC Gel in the evening. Leave it on all night.

After 3 days if no discomfort occurs apply in the evening and leave on all night. If after 3 days, there is no redness or peeling and your skin is not improving, apply twice daily morning and night. Do not apply to eyes, Lips, Mouth or sensitive areas of the neck. Discontinue use if excessive redness or peeling occurs. After you have used it for one month, you should see your doctor or pharmacist again so they can check the improvement in your condition.
What strength Benzac AC Gel is most ideal for you?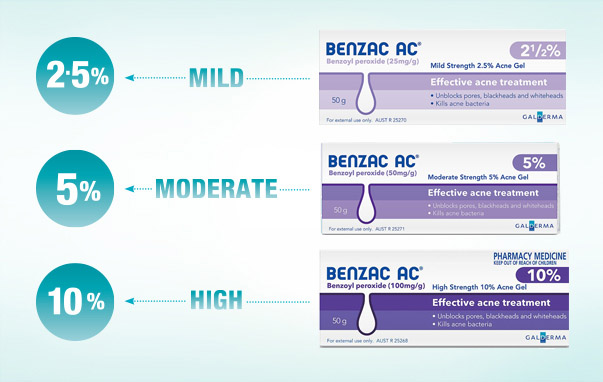 There are 3 strengths of Benzac AC Gel. 2.5%, 5% and 10%. The percentage refers to the amount of the active benzoyl peroxide in the gel. It is recommended that you always begin treatment with either 2.5% or 5% Benzac AC.

If your acne persists and provided your skin tolerates the lower strength gel, your doctor or pharmacist may recommend continued treatment with the higher strength gel (10%).
Are there any warnings and precautions?
Do not apply to eyes, lips, mouth or sensitive areas of the neck. If accidental contact occurs rinse with water and pat dry. Contact may cause irritation. Avoid excessive exposure to sunlight or other sources of ultraviolet light. Do not use harsh skin cleansers & scrubs. Do not use cosmetic products that contain alcohol. Do not use medicated soaps. These things may have an extra drying or irritant effect. Keep cosmetic use to a minimum and avoid oil based cosmetics which can clog the pores. Be careful when using BENZAC gel because benzoyl peroxide can bleach or discolour clothing or towels.
Customer Declaration:
I agree to use strictly as directed and if symptoms persist or if I suffer any adverse effects, I will contact my Doctor or Pharmacist. This is a "Pharmacy Medicine". By ordering this product I acknowledge that I have read and understand the information regarding the product.