FLASH EYELASH SERUM 2ML
FLASH EYELASH SERUM 2ML
7
Average rating:

(7)
Get longer, thicker and darker lashes (and brows) without faking it with Flash Eyelash Serum. Ships Fast Internationally.
$

54.99
$64.99
You Save $10.00
in stock
SKU

0608151
Flash Eyelash Serum 2ml
Get long, thick and dark lashes without faking it by using Flash Eyelash Serum 2ml. When you apply it daily, it fortifies and condition the lash follicles to help give you naturally long and beautiful lashes. In this bottle you get a 3 month supply.
As seen in: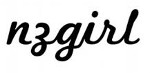 Benefits:
Get the lashes you have always dreamed of
Unlock the secret to long, curled lashes with fLash.

Enhanced the length and curl of your lashes.
Apply it like a liquid eyeliner once a day

Unique formula conditions and strengthens.
Fortify and condition the lash follicles.
Enhances thinning or patchy brows.
Features:
Each tube will last approximately 3 months.
Physician formulated. No prescription needed.
Same active ingredients as other name brands
Physician formulated cosmetic treatment.
Physician formulated and ophthalmologist tested, making it safe for sensitive eyes and contact lens wearers
Apply once a day
Condition hair follicles for long, sexy, curled lashes-fast
Three month supply of lash serum
Sleek new packaging
Same formula as Flash Lash Amplifying Serum 3ml
Better price then the old packaging (30% Cheaper)
What are the ingredients?
WATER/AQUA, HYDROXYETHYLCELLULOSE, GLYCERIN, PANTHENOL, HYDROLYZED SOY PROTEIN, BUTYLENE GLYCOL, CARBOMER, POLYSORBATE20, PALMITOY1, OLIGOPEPTIDE, TETRAPEPTIDE-7, SODIUM HYALURONATE, SOLUBLE COLLAGEN, ISOPROPANOL PHENYLHYDROXYPENTENE DIHYDROXYCYCLOPENTYLHEPTENATE, HYDROLYZED WHEAT PROTEIN, PG PROPYL SILANETRIOL, DISODIUM EDTA, PHENOXYETHANOL, ETHYLHEXYLGYCERIN
How do I use this product?
With simple, once daily application, this advanced serum guarantees results in just weeks, giving you the lashes you've always dreamed of. Simply follow these steps: Wash your hands and face to remove all traces of makeup or cosmetics. Move applicator tip along the lash line of the skin on the upper eyelid in a traditional eyeliner fashion. (From outside corner in). Allow the product to dry for 2 to 3 minutes before applying other cosmetics. A single application stroke is all that is required. It is not suggested to use this product on the lower lashes. This may cause irritation.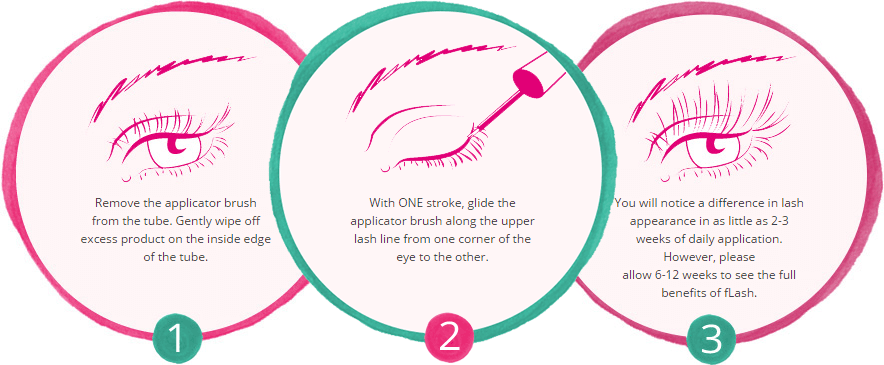 How do I maintain my long lashes?
Use the serum once daily for eight to twelve weeks.
Once you are satisfied with your lashes, reduce use to two times a week.
How long does a tube of lash serum last?
Your tube of flash will last for up to six months if used daily as recommended.
Once opened, the formula will remain active for 9 months.
My eyes are irritated, itchy, or red from the product, what should I do?
The skin around the eye is delicate, if you should find you have sensitivity to the ingredients or if mild or moderate redness or irritation occur, discontinue use of the product at least temporarily until symptoms resolve. Make sure you are using it correctly as mild irritation can occur with incorrect application of Flash Lash.
I noticed some skin discoloration where I apply Flash lash serum, should I be concerned?
Some customers have noted a slight darkening of the skin on the eyelid where they have applied fLash over a prolonged period of time. In most situations this will naturally fade with discontinued use of the product.
Can you use lash serum on your brows?
Yes - flash lash serum is great for patch or light brows as it can help the patch areas appear fuller. You just need to apply to the skin under the arch of your eyebrow or any area that is sparse or patchy.
Are there any warnings and precautions?
Keep away from the reach and sight of children. Store in a cool, dry place. Do not use if you have any forms of eye irritations.
Stop Messing around with fake lashes that only last one night, or making and driving to appointments to get lash extentions and start nourishing your own lashes and brows. Ships fast Internationally.
Here is the video of the old packaging (This is the same formula its just been repackaged)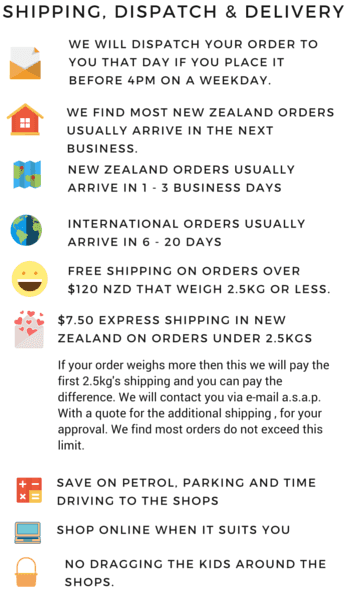 You can read our
full shipping and returns policy here
Returns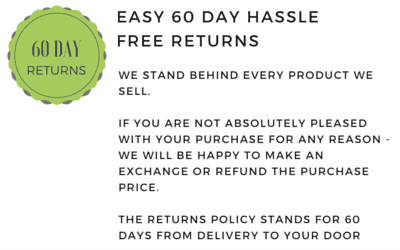 ---
Featured positive reviews:
FLASH EYELASH SERUM 2ML

best product
26.09.2017
I purchased flash lash because I wanted to grow my eyelashes longer because I had pretty short eyelashes. I have probably been using this product for a few months now and it is absolutely amazing! I have had so many comments about my eyelashes from so many people, I've had some ask if I had eyelash extensions in and have had people that have purchased this item from what they have seen from my results. best product money well spent.
FLASH EYELASH SERUM 2ML

Terrific Service
10.10.2017
This is the first order I have placed with this organisation but it will not be my last. Good pricing, rapid delivery and so easy to use their system! Thanks so much for my parcel which arrived beautifully packaged, and so quickly. 48 hrs to get to me in Auckland. 5 star!
FLASH EYELASH SERUM 2ML

Love it
11.11.2017
The online reviews are telling the truth it seriously does work. I first noticed longer lashes in week 3 of using it daily before bed. Will definitely be buying a repeat once my tube is all used
FLASH EYELASH SERUM 2ML

Speedy Reliable Service
31.10.2017
Super speedy delivery, and the best priced product on the internet at the time - even including the shipping fee. Will use this service again for my next top up without a doubt.
FLASH EYELASH SERUM 2ML

Good product
17.10.2017
I have been buying this for a while now and really recommend it. You have to stick with it applying it each night for a month before you see results :)
FLASH EYELASH SERUM 2ML

Great product
06.10.2017
I have found my eyelashes have become more stronger, maybe a little thicker,have not really noticed a change in the length, very easy to use.
FLASH EYELASH SERUM 2ML

KMain
06.11.2017
Flash is a great alternative to LiLash. The product definitely works and is far more cost effective
Shop with confidence
We have this verified by GeoTrust daily to make sure your details will be 100% Safe & Secure during website browsing and shopping.
People who purchased this product also purchased these: