How do I use this product?
With simple, once daily application, this advanced serum guarantees results in just weeks, giving you the lashes you've always dreamed of. Simply follow these steps: Wash your hands and face to remove all traces of makeup or cosmetics. Move applicator tip along the lash line of the skin on the upper eyelid in a traditional eyeliner fashion. (From outside corner in). Allow the product to dry for 2 to 3 minutes before applying other cosmetics. A single application stroke is all that is required. It is not suggested to use this product on the lower lashes. This may cause irritation.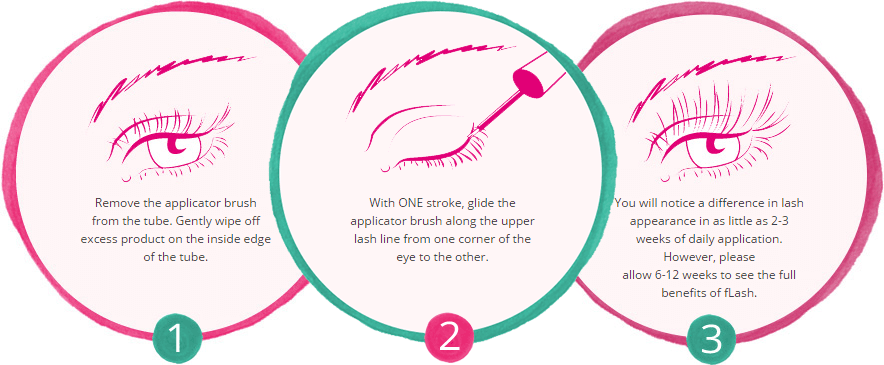 How do I maintain my long lashes?
Use the serum once daily for eight to twelve weeks.
Once you are satisfied with your lashes, reduce use to two times a week.
How long does a tube of lash serum last?
Your tube of flash will last for up to six months if used daily as recommended.
Once opened, the formula will remain active for 9 months.
My eyes are irritated, itchy, or red from the product, what should I do?
The skin around the eye is delicate, if you should find you have sensitivity to the ingredients or if mild or moderate redness or irritation occur, discontinue use of the product at least temporarily until symptoms resolve. Make sure you are using it correctly as mild irritation can occur with incorrect application of Flash Lash.
I noticed some skin discoloration where I apply Flash lash serum, should I be concerned?
Some customers have noted a slight darkening of the skin on the eyelid where they have applied fLash over a prolonged period of time. In most situations this will naturally fade with discontinued use of the product.
Can you use lash serum on your brows?
Yes - flash lash serum is great for patch or light brows as it can help the patch areas appear fuller. You just need to apply to the skin under the arch of your eyebrow or any area that is sparse or patchy.