Ancient Minerals Magnesium Lotion 150ml.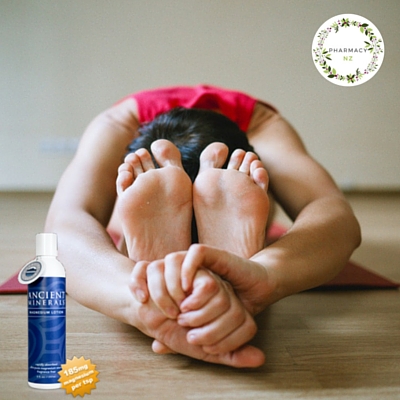 We all want to nourish our skin so it looks and feels great. Ancient Minerals Magnesium Lotion is a great way to relax, unwind and give your skin some pampering. The best part is if you are looking for a new way to support magnesium levels it absorbs magnesium through the biggest organ in the body - the skin. Ancient Minerals Magnesium Lotion is perfect if you are bad at remembering to take your supplements, or you find regular magnesium oil to strong for your skin.

Ancient Minerals Magnesium Lotion is a smooth, quickly absorbed body lotion made up of magnesium chloride, coconut oil and Shea butter that nourishes the skin. It allows you to combine the easy, everyday ritual of caring for the skin with the power of magnesium. The perfect way to support magnesium levels while you care for your skin. It is the perfect moisturiser to throw on after a workout.The rich, gentle moisturisers are great for the most sensitive of skin types including children and sensitive individual.
Benefits:
Moisturise as you support your magnesium levels.
A great alternative to oral supplements and is perfect if you are always forgetting to take your supplements.
Like a yoga session in a bottle.
Perfect after a session at the gym, crossfit, running or a day up the mountain.
Formulated for even the most sensitive individuals.
This lotion soothes and hydrates without leaving your skin feeling waxy or greasy.
Supports healthy skin tissue

Features:
Fragrance free and does not contain any formaldehyde releasing preservatives
Rich in organic plant moisturisers including coconut oil and shea butter
Suitable for sensitive skin (do not apply to broken skin.

Extensive topical and cosmetic benefits
One teaspoon contains approximately 185mg elemental magnesium
Free from heavy metals.
Genuine Zechstein TM Magnesium stands alone as one of the purest and more pristine sources of natural magnesium chloride in the world
Made by Enviromedica
150ml Bottle (new size)

Where does the magnesium chloride in this moisturiser come from?
The Original
Ancient Minerals Magnesium Oil
is drawn from the ancient
Zechstein Seabed
in Northern Europe. There are no added ingredients except those found naturally occurring in the deep underground deposits from this pristine source. It has been has been filtered under cold processing methods to preserve that integrity. Ancient Minerals ultra pure magnesium chloride is extracted from the Ancient Zechstein Seabed in Europe, 1600 to 2000 meters deep in the interior of the Earth. Well protected for the last 250 million years, it is the most pure magnesium oil in the world and a mark of purity on every bottle of Ancient Minerals. You can read more about the
brand here

Ingredients include:
Purified water, Genuine Zechstein magnesium chloride, organic vegetable glycerin, organic simmondsia chinensis (jojoba) seed oil, olive squalane, cetearyl olivate, sorbitan olivate, organic cocos nucifera (coconut) oil, glyceryl stearate, cetyl alcohol, organic butyrospermum parkii (shea butter), hydroxypropyl starch phosphate, xanthan gum, caprylhydroxamic acid, caprylyl glycol.
What if I have sensitive skin?
This product is gentler than the magnesium chloride spray oil, Because it contains not just magnesium chloride, but a mix of shea, coconut butter and nourishing moisturisers. While we dont recommend any one applies this product to broken skin, it is gentler on those with sensitive skin. If your skin is broken, I find putting it on my feet where there is no broken skin is a great way to get the support of magnesium lotion with out sensitivity).
How do I apply it?
Rub onto the body just like a moisturiser. Avoid any broken skin as this may cause stinging. This product is gentler than the liquid magnesium chloride oil spray. It is great for massaging into tired muscles after a workout to give yourself some much needed pampering. It has a delicious coconut and Shea butter scent and feels super luxurious on the skin. You can use this in place of a regular body moisturiser and oral magnesium supplement.
Try this product risk free for 360 days. Order online from Pharmacy-NZ it ships fast to your door.